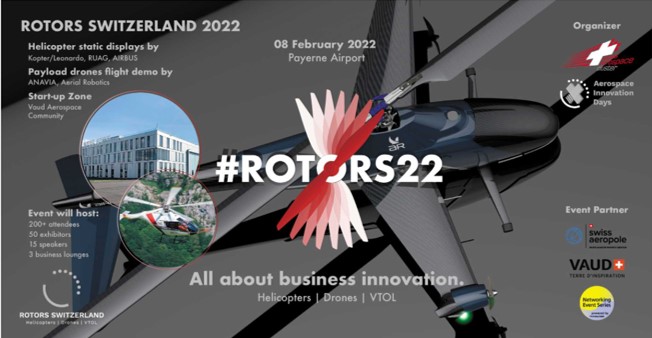 Am 8. Februar 2022 im Swiss Aeropole in Payerne
Vertical Master freut sich, seine Teilnahme an der Ausgabe 2022 von Rotors Switzerland anzukündigen, die dieses Jahr im Swiss Aeropole in Payerne stattfinden wird. Bei dieser Gelegenheit wird Vertical Master einen Platz im Cluster der Waadtländer Start-ups einnehmen, die in der Welt der Drohnen vertreten sind. 
Link: Rotors Switzerland 2022
Swiss Aerospace Cluster New Year's Reception & Networking Event with special attendance by Aerospace Lombardia and Forum Luft- & Raumfahrt (Baden-Württemberg) members on 7 February 2022:
13:00 – 19:00: Opportunities to set the booth/table/space in the hangar for exhibition at ROTORS SWITZERLAND
14:00 – 15:00: Welcome coffee for networking participants from all clusters
15:00 – 16:15: Welcome address, keynotes and presentations
16:15 – 17:30: Guided tours at Payerne Airport Business Park (tbd)
17:30 – 19:30: Networking apéro
Exhibitors at ROTORS22:
Confirmed (as of 21 December 2021) : Scobamat, ANAVIA, VIRA Drones, Kopter/Leonardo, RUAG AG, Airial Robotics, Adequate Swiss, Berhalter AG, SQS, MobLab, Mecaplex AG, REWAG Feinmechanik, Canton of Vaud, swiss aeropole, BOSSARD/Interfast, 9T Labs, Franke Industries, Knoepfel AG, AeroEx, AirWork, Hedinger, Alphacam, HSG-Center for Aviation Competence, ZHAW-Center for Aviation, European Rotorcraft Forum, Tata Consultancy Services, BATT Suisse, Lombardia Aerospace Cluster, Elettronica Aster Spa, Plyform Composites Srl, ASTAB Engineering Srl, KUERZI Aviation, Centaurium / Bell Helicopters, Bucher Leichtbau, Mollis Airport, FIMUTENS Suisse, ENVERGURE, Aerolite, HENSOLDT
Start-ups from Aerospace Ecosystem Vaud (in cooperation with INNOVAUD): Dpendent, Aero41, Roze Mobility, Urartu Systems, Uzufly, RigiTech, Vertical Master, Flybotix, Pix4D, Twenty H
Comments are closed.